LED Bird Flight Diverter
TASS-BFD-09 (LED)
Avaids Technovators is one of the largest manufacturers of Obstruction warning solution with in depth knowledge of products designing suiting specific environments.
Self locking clamp
Easy Installation
Long Life
Maintenance Free
Clamp is equipped with springs which helps in easy installation.
Clamp is suitable for gripping the conductor / OPGW / earthwire as per specification.
Gripping area of clamp is more than 50 %.
All metal hardware used in Bird Flight diverter is corrosion free material.
Clamp is suitable to withstand temperature range from -15˚ C to +85˚ C
Have glow in dark feature
Have contrasting color Red and Yellow
Swing, Sway and rotate easily
Aerodynamically stable
Thickness > 3 mm
Resistant to all weather conditions
Bird Flight diverter is made of of UV stabilized engineered composite plastic (polymer).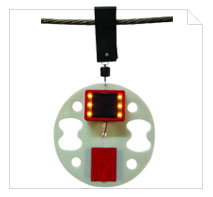 Ask For Price
Transmission Lines.
Overhead Power Cables.
Know More - Contact us